Kevin Durrant may join the Washington Wizards in 2016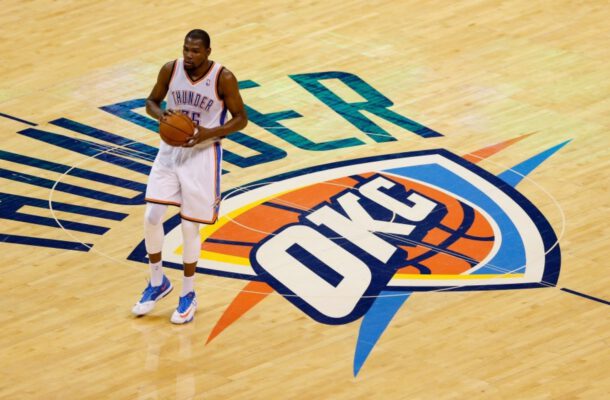 Published by The Washington Post author Jorge Castillo, 1/2/2015
OKLAHOMA CITY — Kevin Durant is one of the world's best basketball players. He also happened to grow up just outside of the District, frequently reps that fact on social media, and is slated to become a free agent for the first time in 2016.
So, naturally, speculation of Durant leaving the Oklahoma City Thunder to sign with his hometown Washington Wizards has picked up steam in recent months.
The rumors have been further stoked by the Wizards' salary-cap maneuvering; significant money comes off the books after the 2015-16 season and they currently have just $32.3 million in salary tied up for 2016-17, when the NBA salary cap (currently at an all-time high of $63.065 million) could hike to an unprecedented level because of the league's latest television deal, though a lockout could delay the implementation.
The NBA is a league of stars and, as a result, teams make moves based on free-agent prospects with flexibility in mind. But the Wizards, of course, can't comment on the possibility of luring Durant or any other player. That would be tampering and, per NBA rules, punishable. But that didn't stop NBC Washington from asking Wizards owner Ted Leonsis about the Montrose Christian product in an interview this week.
"I just want to be focused on this year and the players that we have," Leonsis said. "It's really inappropriate to talk about another team and their players. I would be hurt and offended if some other owner was talking about our players too."
Durant faces his hometown team for the first time this season Friday, when the Thunder (16-17) host the Wizards (22-9) at Chesapeake Energy Arena. The 6-foot-11 forward missed Oklahoma City's first 17 games with a Jones fracture in his right foot and played in just nine games before spraining his right ankle.
Durant returned from the ankle injury Wednesday to score 44 points in the Thunder's 137-134 win over the Phoenix Suns. Coming off his first MVP season, Durant is averaging 24.6 points on 53.5 percent shooting in 10 games this season.